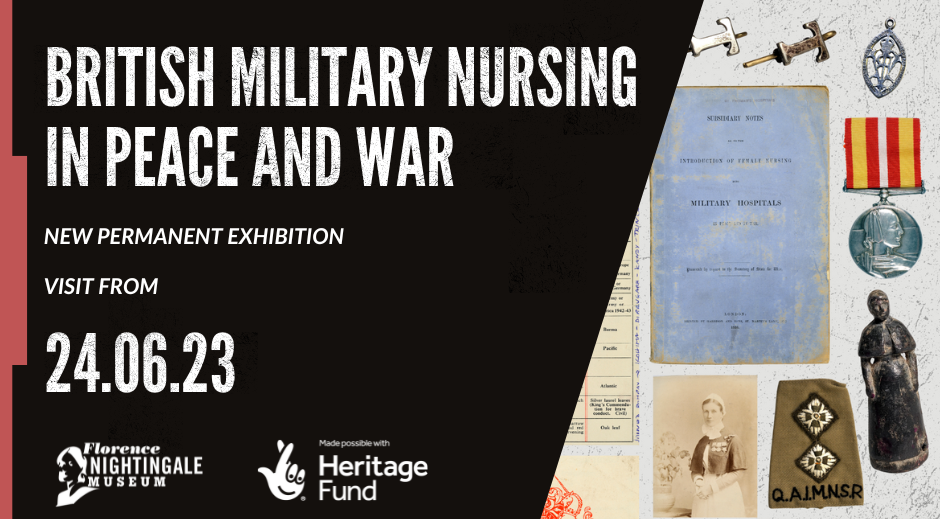 British Military Nursing in Peace and War, is a new permanent display tracing the history and vital, life-saving importance of military nursing, from the Crimean War achievements of Florence Nightingale and Mary Seacole to today.
Set within a replica field hospital tent, containing a timeline of key military nursing events, from the Crimean War to the opening of NHS Nightingale during the Covid-19 pandemic, British Military Nursing in Peace and War features a combination of historic objects and interviews with serving and retired military nurses; a further twenty interviews with military nurses, historians, patients and NHS colleagues are part of an accompanying online exhibition.
Among those interviewed is Major Eamonn Sullivan, chief nurse at Royal Berkshire NHS Trust, an army nursing reserve and the most senior nurse at London's Nightingale Hospital during the first wave of the pandemic. Maj Eamonn Sullivan said, "Throughout history, we've seen that the tragedy of war has led to many, many medical advancements; from Florence Nightingale's time in Crimea right the way through to more recent conflicts, such as those in Ukraine." Recalling the pandemic, he continued, "…even as a very experienced NHS nurse and a very experienced army officer, wave one in intensive care, I felt, was a very violent experience, much more violent than serving in a war zone in Iraq or Afghanistan. And, largely, that was because the patients we were caring for…had gone to work as a nurse, or a bus driver, or a security guard, and then they were struck down by this terrible virus that we knew so little about."
The display is introduced by former Royal Marine Mark Ormrod, a triple amputee who sustained his injuries in Afghanistan, and Wing Commander Charlie Thompson, one of the nurses who saved him. Wg Cdr Charlie Thompson said, "Nursing has changed considerably since the days of Florence Nightingale, but our principles have remained the same, and those are to make sure that we look after our patients. Our patients can range from being civilian, military, or even our enemy forces." Recalling her encounter with Mark Ormrod, Charlie Thompson said, "Mark had sustained such significant injuries…our first initial reaction was, 'he must be dead', because we hadn't trained to see injuries like that. The lessons I learned from Mark and his experience will stay with me forever."
British Military Nursing in Peace and War also includes filmed performances by actors playing historic nurses such as Penelope Gertrude Veysie (Crimean War nurse), Florence Nightingale Shore (Boer War and WWI nurse and goddaughter of Florence Nightingale) and May Chavasse (nurse in the two World Wars, who trained at the Nightingale school at St Thomas's Hospital, where the Museum is based).
Gabrielle Gale, General Manager of the Florence Nightingale Museum, said, "The quite remarkable personal recollections which nurses have contributed to our new display truly bring home the extraordinary skill, determination, character and enduring spirit of the people who serve as military nurses. We are extremely pleased to be honouring them in a small way here."
The display has been supported by the National Lottery Heritage Fund's Dynamic Collections campaign, the Mary Seacole Trust and the Royal Society. It features an updated area dedicated to British-Jamaican doctress Mary Seacole, which also sees an actor performing as Mary Seacole in the museum galleries and new school sessions illustrating how Nightingale and Seacole continue to inspire nurses today.
Plan your visit to the museum and book your tickets using the links below.