A Visit with Miss Nightingale
Come and meet Miss Nightingale in our popular workshop!
Now taking bookings for the 2023-2024 academic year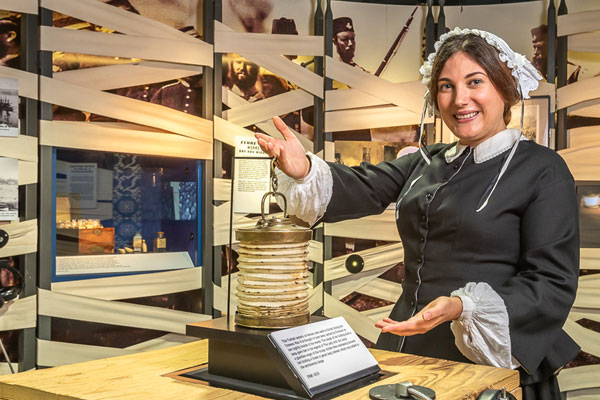 Session Overview
Discover the story of 'The Lady with the Lamp', why she went to the Crimea, how she improved conditions for the soldiers and nurses and what happened as a result of her work.
The session begins with an interactive performance by the museum's own 'Florence Nightingale' describing her life and work. This is then followed by self-directed activities in the museum. Please note that due to the size of the Museum, we can only accommodate up to 30 pupils at a time. If you're bringing two classes (one for a morning and one for an afternoon session) the second group cannot visit the Museum whilst the first group has their session.
I thought it was exceptional. This trip is always the best one we go on every year and the one enjoyed most by the children and I have been teaching for a long time and arranged a lot of trips!
–Key Stage 1 Teacher
| | Standard | Exclusive Access |
| --- | --- | --- |
|   | The Museum is open to the public during your visit. | The Museum is closed to the public during your visit, it will be open to your class only. |
| Days | Wednesday – Friday | Monday and Tuesday |
| Session length | 1 hour and 40 minutes | 1 hour and 40 minutes |
| Cost | £250 |  £290 |
| Timings | 10.20-12.00 or 12.20-14.00 | 10.20-12.00 or 12.20-14.00 |
Each session includes museum entry and workshop for up to 32 Children; Please note we require a ratio of 1:5 in the museum, adults within this ratio and any 1:1 support staff are included in the cost, any additional adults will cost a discounted admission rate of £10 each.