Secondary Schools
We offer a variety of options for secondary school groups.
A visit to the museum supports the GCSE 'Medicine through Time' syllabus, and allows students to investigate who Florence Nightingale was and what she did for nursing and healthcare. They are able to discover who the real person was and deepen their understanding of Florence's achievements, moving beyond the 'Lady with the Lamp' legend. The museum also highlights the work of Mary Seacole and Edith Cavell.
To provide an extra level of safety for your students, when the Covid restrictions are lifted, the Museum will be offering learning programming to schools on days that we're closed to the public. You can therefore have exclusive access to the Museum and can book time to have a self-guided visit and meet Miss Nightingale!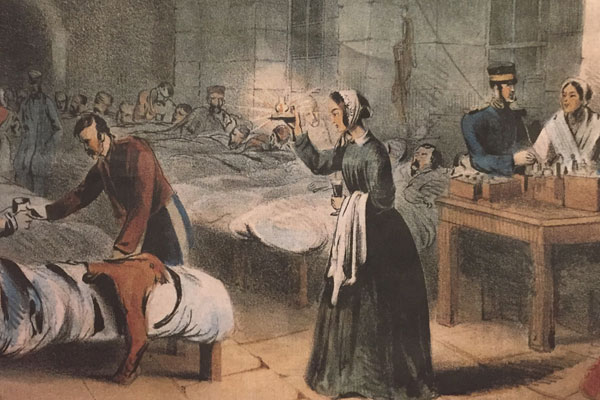 Admission Prices
Tours and Talks
We'd recommend also booking a talk to enhance your self-guided visit. The following prices are additional to the cost of admission:
Tour or Talk Type
Cost
Maximum

Participants

Length
Sit-Down Talk with senior member of staff
£80
35
30-35 minutes
Florence Nightingale Performance
£110
40
40-45 minutes
If you're not able to visit the Museum in person, we can provide a live Zoom lecture on Nightingale's life and legacy with a virtual tour of the Museum's star collection items – either delivered our Director of Learning or Miss Nightingale herself!
Live Zoom Talk with Director of Learning: £80 for  35-40min.
Live Zoom Talk with Florence Nightingale: £ 120 for 35-40min
To book, please contact us with the details of your group and your preferred dates, as well as the type of visit you would like.