Statistics & Evidence Based Healthcare
Guy's and St. Thomas' Hospital
No. 141
By the time that plans were being drawn up to rebuild St Thomas' Hospital in the 1860s, Nightingale was considered a leading expert on hospital design. She worked with architect Henry Currey to design the new hospital according to her preferred 'pavilion' model which improved ventilation and reduced the spread of infections. These tickets served as invitations to the grand opening in June 1871.
St Thomas' Hospital was also the site of the Nightingale Training School for Nurses. The school was originally established at the old hospital buildings in 1860. When Old St Thomas' was marked for demolition, both the hospital and the nursing school temporarily housed at a former zoo in Surrey Gardens. The giraffe house became a cholera ward and the elephant house was the dissecting room.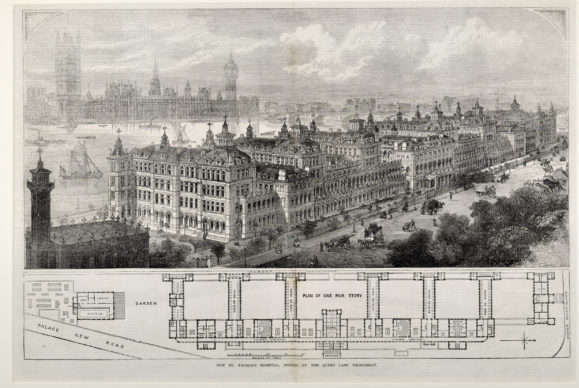 Plan of St Thomas' Hospital. Florence Nightingale Museum Collection
Tickets the the opening of St Thomas' Hospital in 1871. Florence Nightingale Museum Collection
Exhibits from 'Statistician & Evidence Based Healthcare'
Discover the 200 Exhibits
Nightingale is respected worldwide for her pioneering role in developing the nursing profession, her statistical work, and her evidence-based approach to healthcare. In honour of her bicentenary the World Health Organisation have named 2020 the Year of the Nurse and Midwife.
In our special exhibition, you will find out about objects, people and places which tell interesting stories about Florence's life and legacy. You'll discover artefacts from her life, people she both inspired and challenged, and places she helped to shape. There's many more insights too!
Please click on the different sections of her famous coxcomb diagram to explore various aspects of her life and legacy. We hope you enjoy exploring!