Nursing in the Air: A photojournalist's perspective
Military nurses are often required to operate in challenging environments, not least on planes and helicopters. While Royal Air Force nurses may be more experienced, any of the three services can be called upon to nurse in the air.
During the Afghanistan War, photojournalist Susan Schulman travelled with the British Medical Emergency Response Team (MERT) on Chinook helicopters as they recovered patients from the battlefields and brought them to safety and treatment at Camp Bastion Hospital. Among the team was Squadron Leader Peter Quick, hear his story in the museum gallery or here.
Guest article and images by Susan Schulman
I am an American freelance photo/print/video journalist, based in the UK since 1990. Originally trained as a fine artist, I began working as a photojournalist full-time in 2000, directly exploring, engaging with and exposing the often unseen but critical issues confronting the world.
I have spent most of my career focusing on conflict and post-conflict, on those caught in its midst. Policy is one thing — and what we can easily read about – but that is a very different thing to the experiencing of those living through it , something which is often ignored but always of which we know much less. As a freelancer producing features rather than breaking news, I have the privilege of going that bit deeper to uncover the unseen and unknown.
It was in this spirit that I found myself in Afghanistan. I had been commissioned by the Royal United Services Institute to do a series of 'behind the scenes' photo stories on the services for their magazine, the RUSI journal. I had already done the infantry , having followed the Duke of Wellington company from pre-deployment, through their time in Iraq and done the Royal Navy as well. But nothing prepared me for what I found in Afghanistan.
I went to Afghanistan twice , in 2006 and 2007, both times focusing on the RAF emergency medical services . The first trip was looking at medical evacuations from Kandahar base back to the UK. But in 2007, I was based at Helmand's then field base, Camp Bastion. There, I accompanied the MERT teams as, accompanied by Apache gunships for protection, they flew in chinooks to the front lines, to pick up the injured .
That is where I met Peter Quick and his colleagues. It was a deeply emotional experience: during the days I accompanied the team, the injured were civilians – women, small children, and babies. That was hard — indeed, is still hard even just writing about it — but it was not just hard for me. It was difficult for the whole team. Everyone was deeply impacted . But for me, there was also something else that touched me just as profoundly and that was the boundless empathy, compassion, care and humanity that I witnessed in Peter and the team as they treated the injured – perhaps, recalling some of the images imprinted indelibly in my brain – compassion even to the point of pain . Those women , those children couldn't possibly have been in better hands. When they say nursing is a heroic profession, it is an understatement.
15 years later, I am happy to say I am still in touch with Peter.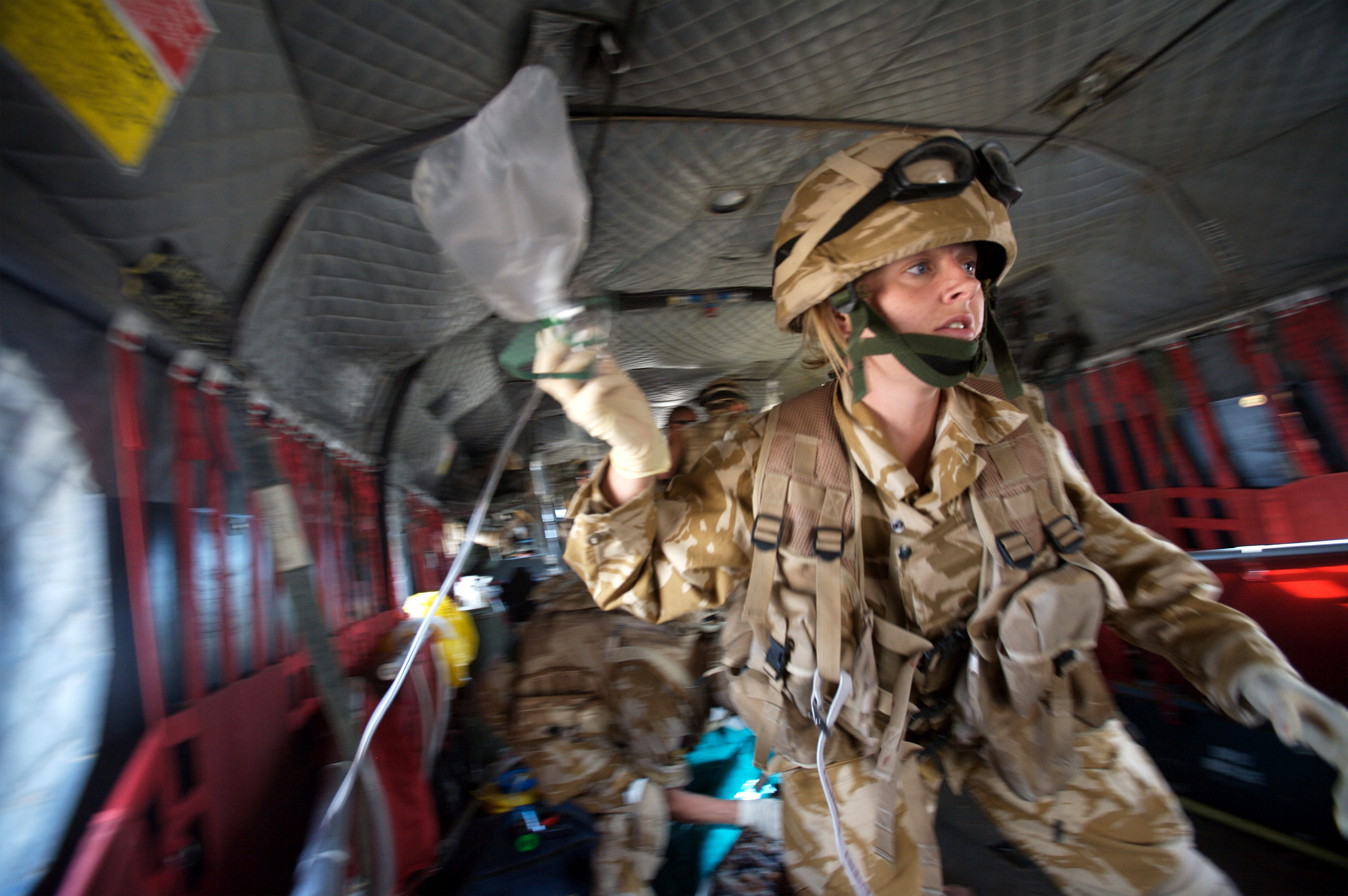 Sgt Rachel McDonald, RAF paramedic onboard the MERT helicopter. Helmand, Sangin district, Afghanistan, 12 May 2007.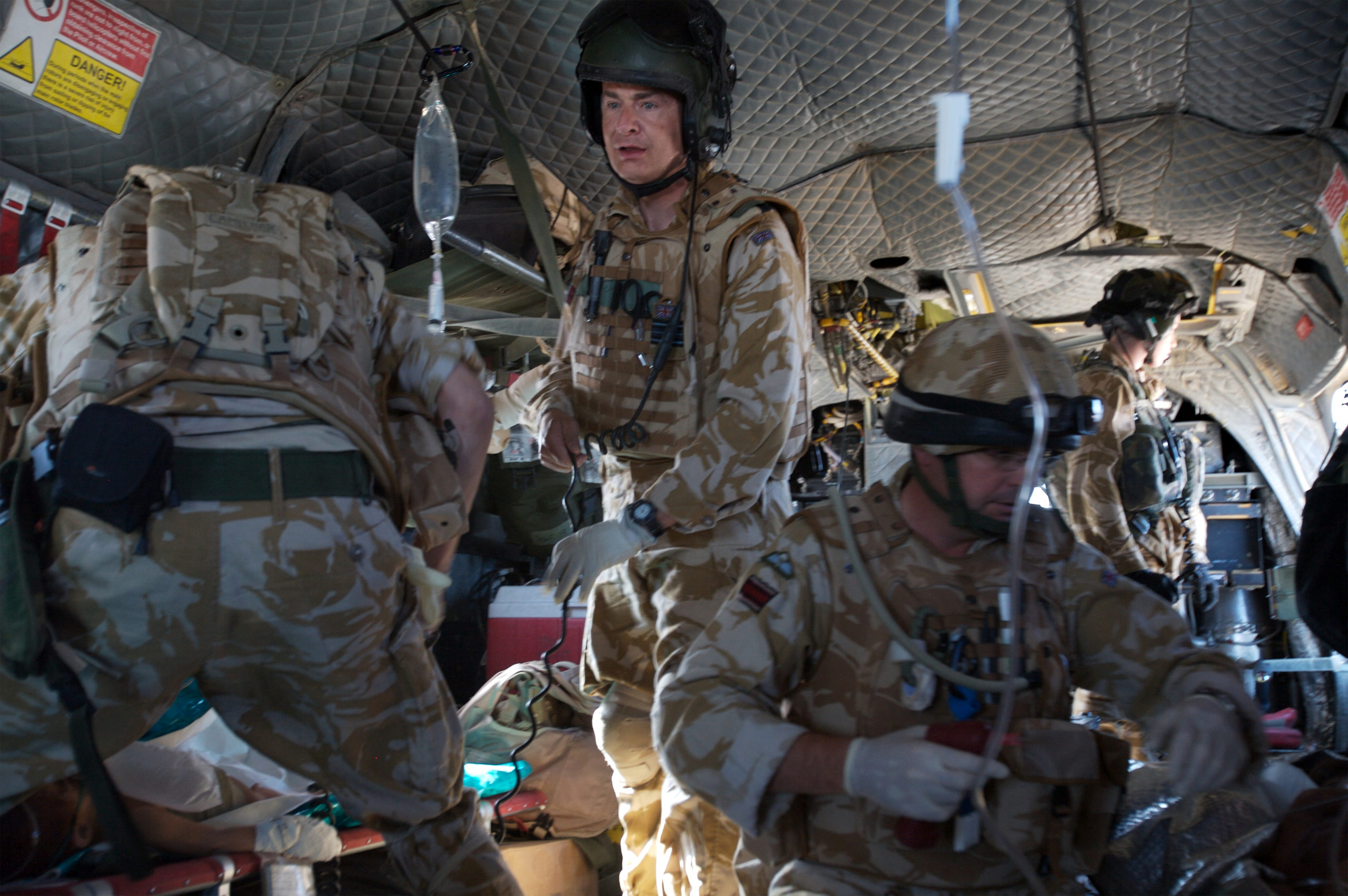 Medics and nurses including Sqn Ldr Peter Quick work on the MERT helicopter. Helmand, Sangin district, Afghanistan, 12 May 2007.
An ambulance and stretcher wait at the ramp of the waiting Hercules aircraft in preparation for a casualty evacuation. Camp Bastion, Helmand province, Afghanistan, 13 May 2007.
British Military Nursing in Peace and War